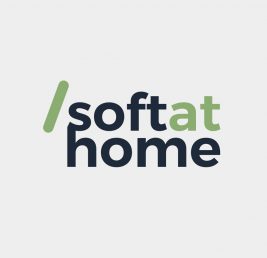 Job Detail
Job Description
Company
SoftAtHome delivers leading connectivity, Pay TV and digital solutions for the connected home that ensure the best possible connectivity and in-home experience.
The SoftAtHome solutions are used in more than 30 million homes and 5 million smartphones in Europe, EMEA and Asia, through operators like Orange, Swisscom, Etisalat and more.
Our company develops a software platform for 'Home' services (Internet, TV, SmartHome), both with embedded software components on devices (routers, set-top-boxes, smart speakers, etc.) and components deployed in the cloud.
SoftAtHome is an R&D driven company. More than 80% of its 300+ staff is active in software development and customer support: design, development, integration, testing, project management.
For more information, visit our website at www.softathome.com or follow as @SoftAtHome.
Mission
As member of the Software Factory team, you will be part of a team specialized in Site Reliability Engineering. You will take care of the maintenance and development of the entire DevOps infrastructure.
Furthermore, there is also a task to investigate cloud-related solutions and the management and analysis of parameters coming from the entire DevOps process to use as a performance indicator.
An additional task is to help shape and maintain the integration process of our open-source solution.
Profile
You have an academic degree in a technical field from a top university.
You have 3+ years of relevant experience in DevOps and/or automation.
You have some degree of software developing skills, preferably in embedded systems in a Linux environment.
Hard skills
Knowledge of tools used for DevOps and CI/CD systems, such as Gitlab, Jira, Docker, Jenkins, …
Knowledge of deployment infrastructures, such as Kubernetes and other cloud-based solutions
Embedded Linux and its associated tools
Basic understanding of networking protocols, network programming, client-server applications
Programming languages: Shell programming (python, bash, perl, …), C/C++ and other languages are a plus
Good knowledge of English is needed, Dutch is a plus
Experience with gateway software stacks such as OpenWRT is a plus.
Soft skills
Creative and conceptual thinking
Challenging the status quo, eager to learn and try new things
Strong analytic and synthesis skills
Autonomy
Persuasive skills
Ability to work in multi country and international teams
Ability to communicate with members of other teams directly to quickly solve regression issues
Being a team player
Ability to communicate well and concise
Attention to detail
Fast learning
Location:
SoftAtHome Belgium, Vaartdijk 3 in Wijgmaal (Leuven)
Contact:
Please send your application directly to diana.stahl@softathome.com
Required skills
Other jobs you may like