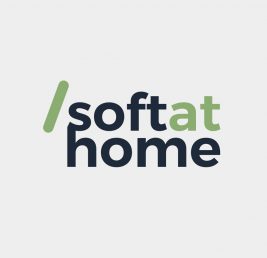 Job Detail
Job Description
Company
SoftAtHome delivers leading connectivity, Pay TV and digital solutions for the connected home that ensure the best possible connectivity and in-home experience.
The SoftAtHome solutions are used in more than 30 million homes and 5 million smartphones in Europe, EMEA and Asia, through operators like Orange, Swisscom, Etisalat and more.
Our company develops a software platform for 'Home' services (Internet, TV, SmartHome), both with embedded software components on devices (routers, set-top-boxes, smart speakers, etc.) and components deployed in the cloud.
SoftAtHome is an R&D driven company. More than 80% of its 300+ staff is active in software development and customer support: design, development, integration, testing, project management.
For more information, visit our website at www.softathome.com or follow as @SoftAtHome.
Your job :
You work in a team of dynamic, multicultural developers and software architects, interacting with internal and external partners of the group in France and internationally.
In the Home Gateway or Set Top Box  Operations teams of SoftAtHome and in close collaboration with the "Program Manager", you drive a software development project for home gateways of a major Telecom Operator. You are responsible for leading the activities of the project from the design to the delivery of the product. Within the budget and the commitments of quality and deadlines negotiated with the customer operator, you use efficiently the internal and external resources in France and abroad, interacting with the partners.
As part of your duties, you will be in charge of:
The technical management of a team of engineers (France or Belgium) and relations with the partners of the project you are working on,
The technical definition of services provided to the operators at the customer in relation with the Program Manager,
Planifying the activities and follow-ups related to the project,
Identifying and managing the risks during the project,
Priority management and corrective actions,
Reporting the progress of your projects internally and with the customer.
Required Skills
Master the technicalities of project management, rigorous
Excellent communicator, you know how to manage, motivate a project team and optimize relationships with the customer
High availability and sense of service, frequent travel
English essential to work with international partners, French is an asset
Knowledge of Linux is an asset
Notions of VoIP, Wi-Fi, IP networks appreciated.
Ability to manage several projects simultaneously,
Experience in Project Management of a network product, ideally a Home Gateway
Background
Passionate about innovation and open source software development, you graduated with a Master or Engineering degree and have at least 6 years experience during which you managed a whole project in the field of networking, ideally a Home Gateway or STB.
Job Environment
Dynamic and innovative subsidiary with international dimension.
High exposure to high flow multiplay and digital TV-media markets.
Job with strong internal and external exposure with a wide range of international stakeholders (France, Europe, Middle East).
Small sizeteams valuing exchange.
Job with strong internal and external exposure with a wide range of international stakeholders (France, Europe, Middle East).
Contact: diana.stahl@softathome.com
Required skills
Other jobs you may like