Broadband Awards 2020: SoftAtHome's Wi-Fi and Network Intelligence Solutions Recognized by the Judges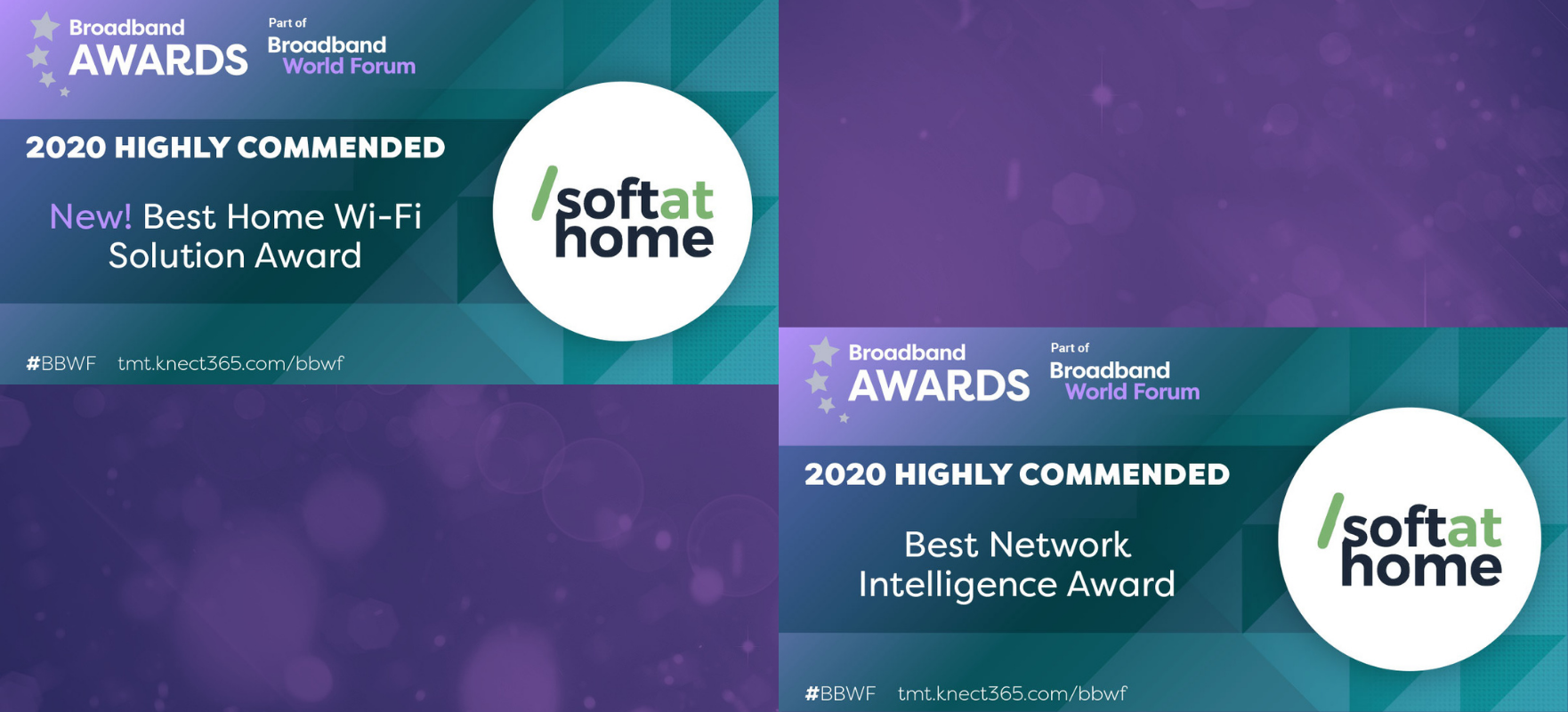 PARIS, France – October 15th, 2020 – SoftAtHome, an independent software company for broadband, video, and analytics, is proud to have been highly commended in the Best Home Wi-Fi Solution and the Best Network Intelligence categories for the virtual Broadband Awards 2020.
Swisscom's Smart Wi-Fi6 deployment, based on the SoftAtHome Wifi'ON product, has won a Best Home Wi-Fi Solution award. Wifi'ON runs on both Home Gateway and repeaters to solve the operator's critical pain points, delivering ambient connectivity and improving the customer experience.
Highly commended in the Best Network Intelligence category, Eyes'ON, with its smart agents distributed in customer devices, integrates data reduction, and real-time monitoring by design. It changes the QoS monitoring paradigm, also improving the customer experience for any services on all networks.
SoftAtHome's Broadband World Forum virtual booth opened on October 13th to showcase these two products and several other solutions. To schedule a guided tour of our demos, please register here: https://www.softathome.com/softathome-virtual-showroom/ .
About SoftAtHome
SoftAtHome creates software for operators to deploy services with the best customer experience for connectivity, video, and Smart Home products and provide the ability to monitor this experience. Major operators in over 20+ million homes across 20+ countries use SoftAtHome. Based in France and Belgium, the company has more than 300 employees, mainly in software development. Offices are already in half a dozen European capitals and Dubai, Singapore, and Toronto. More information at www.softathome.com.
For Press Information Contact:
Marta Twardowska for SoftAtHome
E: press@softathome.com
M: +31 621-184-585
T: @SoftAtHome