Launch of O2 Smart Box Powered by SoftAtHome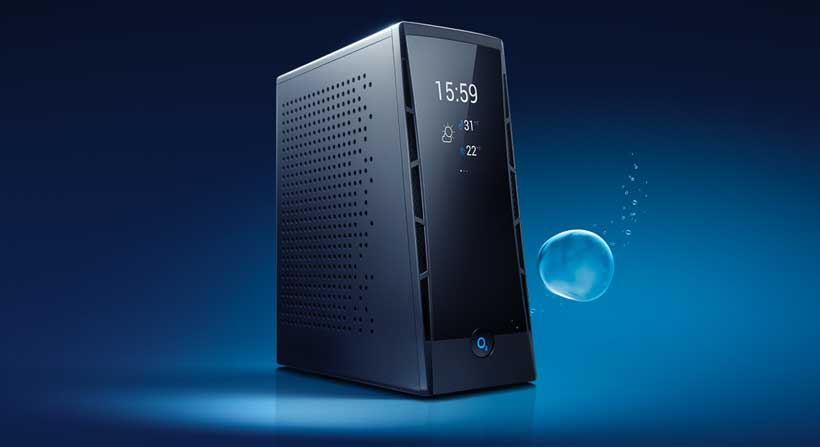 The leading Czech operator successfully deployed its new O2 Smart Box, a VDSL3 gateway in August 2017, bringing Wi-Fi performance and smart home device control.
Colombes, France – September 15, 2017 – SoftAtHome, the software provider for operator CPE devices enabling convergent services for the digital home, announced today the successful launch of O2 Smart Box in the Czech Republic.
Close collaboration between O2, KaonMedia, Broadcom and SoftAtHome, leveraging their deep knowledge and expertise of Wi-Fi and the digital home, has brought the best Wi-Fi performance (up to 250 Mbps with VDSL3) and smart home services to O2's Czech customers. The new solution brings better control over home Wi-Fi, home security, remote control for home appliances and lights, fire alarm, with other services to be announced soon.
Wi-Fi quality and performance issues are estimated to generate over 120,000 customer service requests a year in the Czech Republic. O2's elegant new box addresses this by giving customers the ability to control the quality of their network and manage their digital home devices, including game consoles, tablets, smartphones and smart TVs.
Based on the Broadcom BCM63138 chipset, the gateway displays time, weather and temperature information on its screen. As a home network router, it offers 4 Gbps Ethernet connectors and Dual-Band Wi-Fi with a theoretical throughput of 2.2 Gbps – 1740 Mbps at 5GHz. To maximise coverage, a set of integrated antennas using 4×4 MU­­­­-MIMO and Beamforming technology ensures a stable signal even when connecting multiple users.
"One of our ambitions in the Czech Republic is to offer our customers the best Wi-Fi performance as well as an all-inclusive, intelligent home centre, controlling sensors and captors within homes enhanced by the Internet of Things," said Roman Bacík, Project Manager of O2. "We are really pleased that our O2 Smart Box is now available and at a competitive price. This would have not been possible without the expertise of SoftAtHome and other teams assembled for this project."
"We are really pleased that O2 has placed its faith in our technology and are excited to contribute to the launch of their innovative smart box," said David Viret-Lange, CEO of SoftAtHome. "O2 is an agile operator offering new advanced services and features to its end-users. This deployment illustrates how important Wi-Fi and IoT have become to subscribers."
About O2:
O2 is the largest integrated telecommunications provider in the Czech market. At present we operate close to eight million mobile and fixed accesses, which ranks us among the market leaders in fully converged services in Europe. To users of mobile services in the Czech Republic, we offer state-of-the-art HSPA+ and LTE technology. We have the most comprehensive proposition of voice and data services in the Czech Republic, and we actively exploit the growth potential of the various business lines, especially ICT. Our data centres, with a total floor area of 7,300 square metres, rank us among the leaders in hosting, cloud and managed services. O2 data centres belong to the few commercial ones in Central Europe to have TIER III certification. With our O2 TV, we are also the largest IPTV service provider in the Czech Republic. In January 2014, O2 became a member of the Czech investment group PPF.
About SoftAtHome
SoftAtHome is a fast-growing software company delivering leading connectivity, Pay TV and digital services for Operator devices in the home. Through its SOP product, SoftAtHome is empowering operators to compete against local competition and global players alike by leveraging the ecosystem to deliver outstanding services. SOP is central to delivering standard based cost-effective solutions that are simple and long-lasting. Its solutions are already deployed on over 30 million homes in more than 18 countries in multiple broadband and broadcast deployments for major operators.
The company is headquartered in France with development and sales teams also in Belgium and the UAE.
For more information, visit our website at www.softathome.com or follow us @SoftAtHome.
For Press Information Contact:
Marta Twardowska for SoftAtHome
E: press@softathome.com
M: +31 621-184-585
T: @SoftAtHome