DSP Group and SoftAtHome Enhance IoT Collaboration Utilizing Innovative ULE Technology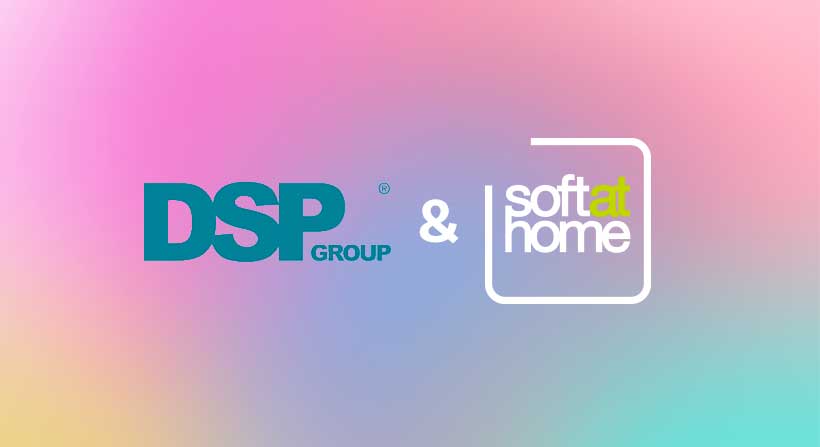 Colombes, France and Los Altos, Calif. – November 1st, 2016 – DSP Group (NASDAQ: DSPG), a leading global provider of wireless chipset solutions for converged communications, and SoftAtHome, a software provider for operator CPE devices enabling convergent services for the digital home, announced today that SoftAtHome's SOP8 platform is now enabled with Ultra Low Energy (ULE) IoT offering simplicity for deployment of IoT services in a cost-effective way for the operators.
SoftAtHome SOP8 extends the benefits of the Cloud across the home network right to the end device. The software supports features including hardware consolidation and replacement of individual dedicated boxes with software running applications on general-purpose boxes that leverage proven and robust data centre technology. It also delivers flexibility, enabling the computing platform to be repurposed for scalability and testing or trialling of new functions. It avoids being locked into a given hardware vendor and reduces both OPEX and CAPEX, as well as power consumption and service provisioning time. With SOP8, barriers to market for new entrants are greatly reduced.
DSP Group is leading the ULE revolution, providing advanced ULE chipsets and modules both serving nodes, with DHX91 family of ULE solutions, as well as the system's HUB with DCX81 DECT / ULE base transceiver chipset. Furthermore, existing DECT Hubs, providing DECT CAT-iq 2.0 telephony, can be easily upgraded to support ULE for IoT services and be managed by SoftAtHome's platform.
The ULE technology is ideally suited to support the new wave of consumer IoT devices and offers longer range, interference-free RF bandwidth, enhanced security and natural support in two-way voice.
"We are excited to enhance the cooperation with DSP group and expand our offering to include ULE-managed systems," said Frédéric Maizeret, VP Sales of SoftAtHome. "There is a strong interest in ULE technology as it offers superb range, interference-free spectrum band and enhanced security"
'We are delighted that SoftAtHome has chosen to add ULE to its new smart home platforms,' said Raz Kivelevich-Carmi, VP marketing and business development, ULE Product line at DSP Group. 'Beyond the commercial benefits to our mutual customers, of re-using existing DECT based hubs, ULE provides many more technical and commercial values to service providers as well as the end customer, such as simplified star topology, with minimal number of devices and a dedicated license interference-free RF band, providing the service provider with a cost-effective deployment of its IoT service."
###
About SoftAtHome
SoftAtHome is a fast-growing software company delivering leading connectivity, Pay TV and digital services for Operator devices in the home. Through its SOP product, SoftAtHome is empowering operators to compete against local competition and global players alike by leveraging the ecosystem to deliver outstanding services. SOP is central to delivering standard based cost-effective solutions that are simple and long-lasting. Its solutions are already deployed on over 30 million homes in more than 17 countries in multiple broadband and broadcast deployments for major operators. The company is headquartered in France with development and sales teams also in Belgium and the UAE.
For more information visit our website www.softathome.com or follow us @SoftAtHome.
About DSP Group
DSP Group®, Inc. (NASDAQ: DSPG) is a leading global provider of wireless chipset solutions for converged communications. Delivering semiconductor system solutions with software and reference designs, DSP Group enables OEMs/ODMs, consumer electronics (CE) manufacturers and service providers to cost-effectively develop new revenue-generating products with fast time to market. At the forefront of semiconductor innovation and operational excellence for over two decades, DSP Group provides a broad portfolio of wireless chipsets integrating DECT/CAT-iq, ULE, Wi-Fi, PSTN, HDClear™, video and VoIP technologies. DSP Group enables converged voice, audio, video and data connectivity across diverse mobile, consumer and enterprise products – from mobile devices, connected multimedia screens, and home automation & security to cordless phones, VoIP systems, and home gateways. Leveraging industry-leading experience and expertise, DSP Group partners with CE manufacturers and service providers to shape the future of converged communications at home, office and on the go. For more information, visit www.dspg.com.
Tali Chen
DSP Group, Inc.
Tel: +1-408-240-6839
www.dspg.com
SoftAtHome Media Contact:
Marta Twardowska
press@softathome.com
m: +31 6 21 18 45 85
t: @SoftAtHome