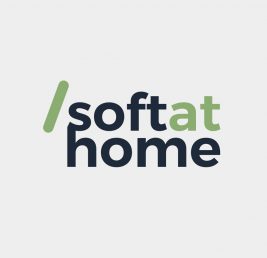 Job Detail
Job Description
SoftAtHome provides software products for Connectivity, pay TV, Home Networking and Smart Home. SoftAtHome solutions are deployed with major operators in over 20 million homes in more than 18 countries.
The company employs 250 people, mainly software developers, based in France and Belgium, and has a presence in different European countries, the Middle East, Asia and North America to support customers.
SoftAtHome is the best place to develop your skills on challenging projects. You will join an international team (France, Belgium, Dubai, Poland, Switzerland, Spain, etc.) of software experts passionate about innovation, in the fields of connectivity, digital TV, IOT, and artificial intelligence at the service of the connected home.
For more information, visit our website: www.softathome.com
Environment:
SoftAtHome is working on the next generation of European voice assistant in collaboration with major operators. The Orange Djingo is a smartspeaker for Orange ecosystem, including a voice assistant.
It offers an easy and intuitive way to navigate in Orange TV, manage your connected home, listen to music, make a call and access lots of other services. It will enrich the experience within the house through a consistent and simplified installation for everyone.
In close relation with the hardware manufacturer, we are in charge of the realization of all the embedded software, and the design of a common and shared environment for development. Audio processing, connectivity (WiFi, DECT, Bluetooth), BSP, will be some of the topics on which we operate.
The environment is vast, both technically (embedded, cloud services, etc.) and human (specific missions will be necessary in Germany, France and recurrent interactions with the manufacturer in Asia).
Join our new voice assistant project team to work on the new Djingo connected speaker edition. 
Types of expected profiles:
 1. Embedded software developer for Djingo connected speaker
As a Djingo software developer, you will be developing in Python / C ++ language a software component for the voice assistant. You will have the mission of writing or rewriting the services of the smart speaker which constitute the firmware such as:
Audio player,
Cloud services interfaces,
Wi-Fi and Bluetooth connectivity,
OTA upgrades
Certificates management.
Software integrator for Djingo connected speaker
As a software integrator Yocto you will have a central role of aggregating developments, by rigorously listing the different elements integrated into a version. You will make a delivery note with each version release. You will participate in the definition of the working methods and you will also be a key contributor in the management of the continuous integration. 
Embedded audio signal processing engineer for Djingo Connected Speaker
As an embedded audio signal processing engineer, you will be in charge of consolidating the base of a personal assistant, for which voice recording & playback is a crucial element. A big part of the treatments are abstracted by alsa, but you will have the mission to characterize, test and integrate the solutions in a software solution exposing the audio through pulseaudio.
Embedded software developer with DECT expertise for Djingo connected speaker
As a DECT developer, you will ensure designs that allow a smart speaker to be used as a hands free handset, or to drive connected objects. Commonly used for voice / audio services and IoT, these developments will also be integrated into the smart speaker.
Software Wi-Fi Developer for Djingo connected speaker
As a software Wi-Fi developer, you will ensure the development of low level drivers.
You must be familiar with:
low level kernel interfaces
implementations of chipset vendors
wpa_supplicant layers, exposed to the system via a connection manager: connman.
Djingo bluetooth speaker software developer
As a bluetooth software developer, you will be responsible for integrating Bluetooth services into the equipment.
You must be familiar with:
Chipset vendor deliverables,
standard low level kernel interfaces,
Ideally familiar with several stacks : bluez, bluedroid, fluoride, ect …
Common Skills & Requirements
You have good knowledge of the following technical fields:
Operating System: Embedded Linux
Programming languages: C, C ++, Python
Knowledge of OpenSources integration tools: Git, Yocto, Jenkins
You are curious, autonomous, communicating
You are recognized for your ability to exchange with several trades
English as a working language
You are an accomplished Technophile, passionate about embedded / low level and you have personal projects
Profile
The ideal candidate will have a minimum of 5+ years of software development and / or telecommunications / TV and / or publishing software experience.
You have graduated with a Masters in computer science/electronics or in IT/electronics engineering.
Advantages of the offer
Evolution within a Group with an international vocation in an innovative and highly technical environment,
Significant exposure to broadband operators and digital TV-media markets,
Teams on a human scale, valorizing knowledge exchange .
Possible career evolution for people with the potential,
Do you want to try adventure at SoftAtHome? Join us!
Required skills
Other jobs you may like